All photographs are copyright © 2003 Greg Bunch / gb undersea

We have a fairly extensive collection of Gulf of Mexico images, with heavy emphasis on the mass coral spawning of the reefs within the Flower Garden Banks National Marine Sanctuary, and the collection and study of the spawning. We also have many images of other research activities, including tagging of Loggerhead turtles, installation of survey markers, fish census, and repetitive photography. In addition, we have photographs of artificial reefs off the Florida, Louisiana, and Texas coasts, some of which are offshore petroleum platforms.

Look for the addition of more photo galleries in the near future.
If you would like more information, please email.
---
---
Other photographs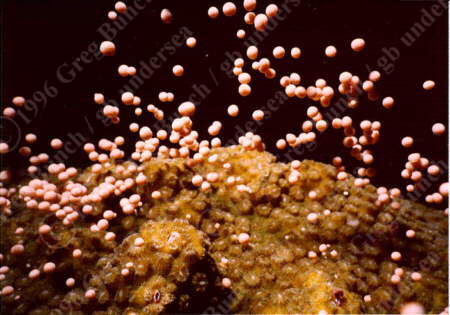 Mountainous star coral spawning at the Flower Gardens, 1993
Copyright © Greg Bunch / gb undersea
See it on the American Museum of Natural History website
and in their Hall of Ocean Life

First published in the June 1994 issue of Scuba Times magazine, accompanying
Marty Snyderman's article "Texas Daydreaming - A Flower Gardens Experience"

Appeared as the back cover of Marine Sanctuary magazine, spring/summer 1994

Shown in the National Marine Sanctuaries publication "A Tour of the Sanctuaries"


Equipment used:
Sea&Sea Motormarine II, 1:2 macro lens, YS-50 strobe, diffused with my trusty
Rubbermaid #6 (1 pint) diffuser.
Kodacolor 100 print film, f/22, strobe set to manual (full power)
---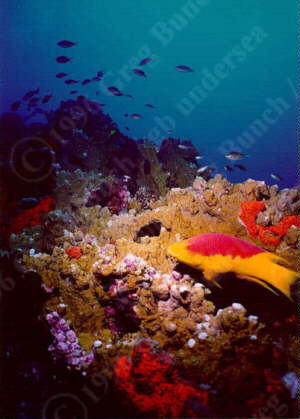 Spanish Hogfish at Stetson Bank, 1993
Copyright © Greg Bunch / gb undersea
Appears as the cover of "Fishes of the Gulf of Mexico, Volume 1"
by Dr. John McEachran and Janice Fechhelm
1120 pages, University of Texas Press, September 1998
Also see it on Amazon.com
Equipment used:
Sea&Sea Motormarine II, 16mm lens, YS-50 strobe with diffuser.
Kodacolor 100 print film, f/8, strobe set to manual (full power)