---
Strobe Arm Adapter
An MXTENDERTM System Option
---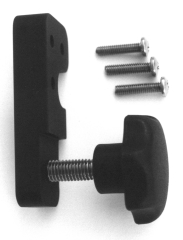 The Strobe Arm Adapter allows a YS-40A strobe equipped with MXTENDERTM to mount to any Sea&Sea or compatible strobe arm. It is constructed of the same tough, corrosion-resistant alloys as the MXTENDERTM itself. It attaches easily to the MXTENDERTM strobe bracket with three supplied screws. It includes a heavy-duty oversized knob for securely holding it in position on the arm. The Strobe Arm Adapter will not interfere with normal coupling and uncoupling of your MXTENDERTM, so you still have the ability to use your system without an arm and handhold your strobe.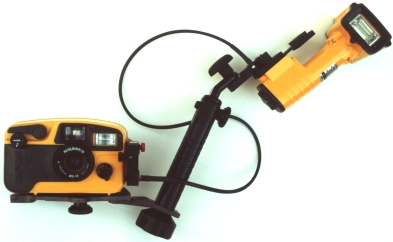 In addition to the Strobe Arm Adapter, you will need a Sea&Sea or compatible arm. Also, a base is required for the MX-10 camera. Beginning around 1998, Sea&Sea added a threaded socket to the bottom of the MX-10. If your MX-10 has the threaded socket, then the Sea&Sea Multi-Stay Base and Arm Adapter will work perfectly, as shown on the right. The Sea&Sea Multi-Stay Base and Arm Adapter are available at your Sea&Sea dealer.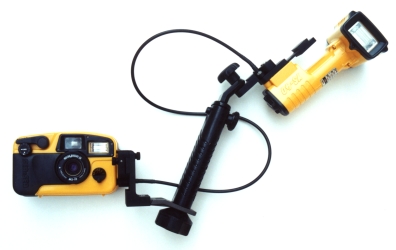 For those MX-10's which lack the threaded socket, we offer the MX-Base, which attaches to the MXTENDERTM camera bracket. The Sea&Sea Arm Adapter connects to the bottom of the MX-Base, thus providing these cameras a standard point of attachment for the strobe arm. An MX-10 system using the MX-Base is shown at left.












NOTE: The strobe bracket of your MXTENDERTM must have three small tapped holes in it in order to accommodate the Strobe Arm Adapter. If yours lacks these holes, you will need to return it to us for tapping. There will be a small charge for doing so. If you have the ability to tap these holes yourself, please email us for details on how to tap them correctly.