Do you find yourself using your housed digital camera only with the add-on lens attached
because you're afraid to drop the lens, or have nowhere to put it if removed?
If so, the Digital Lens DockTM is the answer.
---
Digital Lens DockTM


Installed on Olympus PT- 010 housing with
Sea&Sea WAL-L lens
The Digital Lens DockTM provides a convenient, secure place to hold any 67mm diameter threaded add-on lens when not in use. With it, you can safely remove your add-on lens when you wish to use your camera's built-in optics.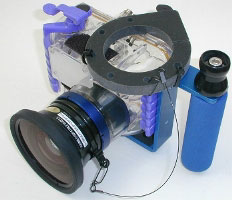 Not only does the Dock hold the lens, but it incorporates the same proven system as our Save-A-Lens KitTM to help prevent the lens from being lost whether on the housing, in the Dock, or in between!

The Digital Lens DockTM is rugged and corrosion-proof, but won't harm your lens's delicate threads. Its universal mount makes it compatible with any housing configuration. It includes a detailed, illustrated installation guide. At a price of $39.95, the Digital Lens DockTM allows you to take full advantage of your camera, and also provides economical protection for your costly lens.
| | |
| --- | --- |
| The Digital Lens DockTM works with all add-on lenses for digital camera housings which have 67mm diameter threads. A partial list of compatible lenses and housings is below. | |
Manufacturer
Lenses*
Housings*
Olympus
PWC-01, PCU-01

PT-009, PT-010, PT-012, PT-013, PT-015

Sea&Sea
WAL-L

Inon
UWL-100, UCL-330
Ikelite
6130.1 Housing for Olympus
Fish Eye
Fix 4040

*The Digital Lens DockTM is compatible with any 67mm
threaded lens or housing, even if it's not listed here.